PHUKET ITINERARY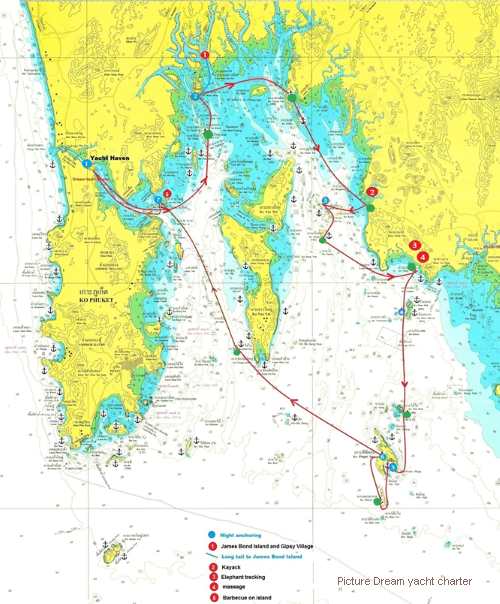 DAY 1
YACHT HAVEN / KOH NAKA YAI (12 MN)
Arrival in Phuket and welcome at our base in Yacht Haven,
located on the North part of the island, 15 min. from the airport.
Boarding at 5: 00 pm, boat briefing about the security onboard,
the itinerary and the optional excursions package.
Departure late afternoon to the first anchorage (around 1h30),
Koh Naka, dinner on board.
DAY 2
KOH NAKA YAI / KO KAI NOK /
KOH PHI PHI DON (27 MN)
Just after breakfast, you'll sail to the Island of Koh Kai (around
3 hours sailing) where you will enjoy a nice beach, ideal for
snorkelling along a rich coral reef.
Lunch on board then sailing to Phi Phi Don, one of the most
beautiful islands of the area. Anchorage at sunset along
Monkey bay, on the West coast. (In case of strong winds,
the anchorage would be at Tonsai Bay, on the South-East
part). Swimming, dinner on board.
DAY 3
KOH PHI PHI DON / KOH PHI PHI LEH /
KOH PHI PHI DON (6 MN)
Breakfast at anchorage then cruising to Phi Phi Leh (around
45mn) to discover the famous Maya Bay, where the movie
"The Beach" has been shot, starring Leonardo di Caprio.
Sailing around the island, you will discover cliffs and caves
where the locals collect bird nests to be exported to China.
Back to Phi Phi Don at Tonsai Bay for lunch at anchor.
Afternoon free for shopping on the island or walking up to the
view point where you'll see a splendid panorama.
Dinner on board or (optional) dinner on the beach in a
Thai seafood restaurant followed by a traditional spectacle
on the beach.
DAY 4
KOH PHI PHI DON / KOH MAI PHAI (BAMBOU ISLAND) /
KOH DAM (17 MN)
Sailing after breakfast (around 2 hours) to Koh Mai Phai, also
named Bamboo Island, to snorkel along a white sandy
beach, on a fish-filled coral reef.
Lunch on board then sailing to Chicken Island (Koh Dam) where
you will swim in an aquarium or rest on a small sandbank,
between two islands.
Dinner on board at anchorage in Koh Dam or Raileh beach,
depending on the weather.
DAY 5
KOH DAM / KOH HONG EAST / AO NANG (8 MN)
Cruising to Koh Hong for 2 hours after breakfast then you
will discover an amazing lagoon with the dinghy, in the
heart of high cliffs and wild life.
Lunch on board then sailing to Ao Nang.
Optional: explore the secluded mangrove and its life: birds,
monkeys etc.. on sea kayaks.
DAY 6
AO NANG / KOH YANG (18 MN)
Just after breakfast, you will have the opportunity to discover
jungle riding on an elephant (optional). Then the yacht will
sail (around 3 hours) in the PhangNga Bay to Koh Yang for
dinner and night at anchorage.
DAY 7
KOH YANG / KOH HONG / KO WA (10 MN)
From Koh Yang, the optional excursion will take you on a
traditional "long tail boat" to visit first the James Bond Island,
famous from "the Man with the Golden Gun" then
Koh Panyi, the only floating village built on stilts, where you
will meet the traditional fishermen and buy some local
handcrafts. Back on board for lunch and cruise to Koh
Hong West to explore the fantastic lagoon by dinghy.
In the afternoon, you will cruise to the nice beach of Koh
Wa for swimming.
Dinner on board or BBQ on the beach of Koh Wah (optional).
DAY 8
KOH WA / YACHT HAVEN (8 MN)
Sail back to marina Yacht Haven to disembark between
8:00 am and 10:00 am after breakfast.
OPTIONAL EXCURSIONS PACKAGE
• DAY 3
Dinner on shore in a traditional Thai restaurant and local
spectacle on the beach
• DAY 5
Exploration of the mangrove on sea kayaks
• DAY 6
Elephant trek
• DAY 7
- Discovery of James Bond Island and the floating village of
Koh Pan Yi, on a traditional "long tail" boat
- BBQ dinner on the beach of Koh Wa
OTHER ITINERARIES